You have heard of Blockchain in the news but don't know how to use the technology for your business? In that case, we have good news for you. We can help you with our custom-tailored education and workshop solutions.
In a first step, we are going to introduce you to the world of Blockchain by presenting industry-specific use cases as well as covering the application-oriented aspects of this promising technology.
In a second step we are assessing specific Blockchain Use Cases for your company. We do that by conducting a workshop together with subject matter experts of your company.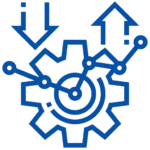 In a third step, we are helping you to use the full potential of Blockchain by implementing specific projects for your business in the areas identified in the workshop phase.
We offer different packages
We offer various education packages which are custom-tailored to our customers' needs. Depending on the existing knowledge in your company and your employees we can either give you a quick overview session or an in-depth seminar:
2-hour intro session
1/2-day overview session
1 day in-depth session
Sign up to our newsletter​
Subscribe now and get news about blockchain, new technologies and more!
Discover your personal Blockchain Use Cases
In our workshops we help you to discover the potential of Blockchain for your specific company. Together with your subject-matter experts we are elaborating if Blockchain poses a threat for one of your current business sectors. If so, we'll sketch a potential business model which you can use as a blueprint for a potential upcoming project.